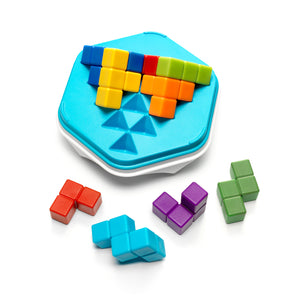 Zigzag Puzzler is a 3D puzzle game with 2 playing modes. Build a pyramid on the blue side of the gameboard or a zigzag on the white side! Contains a transparent lid for easy storage, so you can solve any of the 80 challenges (40 challenges per side) on the go!
Category: Pocket Games
Age: 12+
Number of Challenges: 80
Min. number of Players: 1
What's inside the box: Double sided game board, transparent lid, 9 colourful puzzle pieces & 2 challenge booklets with 40 challenges and solutions each
What the Experts say: Playing Zig Zag Puzzler stimulates the following cognitive skills -Planning, Problem Solving and Spatial Insight
-
Why Smart Games?
1. Multi-level logic games
Challenges are divided into 4 or 5 levels of difficulty. You start with the easiest challenges. Gradually, the challenges get more difficult, so that they stay interesting and fun.
2. Fun for the whole family
There are SmartGames for children as young as age 2, but many games appeal to teens and adults as well. The multi-level challenges provide loads of fun for everyone from novices to puzzle pros. Have fun exercising your brain! Utilize skills ranging from spatial insight to pattern recognition, while improving your problem solving abilities and your memory.
3. 1-2-3 rules
SmartGames come with clear & easy to understand game rules and are simple to learn.
4. Superb quality
Each SmartGame is carefully designed and produced using quality materials that last. And with so many included challenges, each game can be replayed over and over again.
 5. Award winning toys
Our SmartGames have won over 70 awards worldwide!
 6. One player games
Play SmartGames anywhere, anytime, no opponent needed. Although SmartGames are designed to play alone, it's also great fun to solve our brain-teasing challenges together.