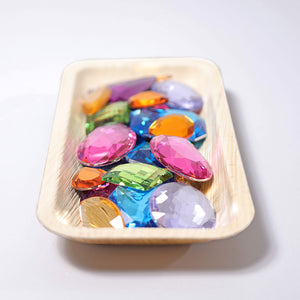 Add some sparkle to your everyday play adventures with these giant acrylic glitter stones from Grimm's! These beautiful loose parts are very versatile and we have used them for counting, sorting, sequencing and creating picture scenes. We have also gone on a treasure hunt, built a lovely castle for a sparkly princess, and used them as play food or play money in our everyday play stories. Truly versatile and pretty!

* Set of 28 glitter stones. Made of acrylic, with a mirror surface at the bottom.
* Each acrylic glitter stone measures between 2.5cm - 4.5cm in diameter.
* Note: Adult supervision is needed at all times, as these may pose a choking hazard to young children.