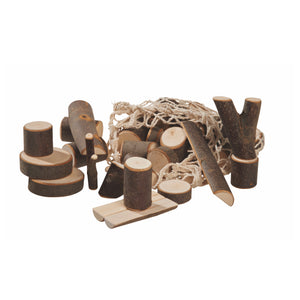 Gluckskafer Natural Branch Wood Blocks are beautiful, tactile blocks that bring a touch of nature to your everyday play adventures. Crafted from fallen hazelnut and willow tree branches, the original bark on these blocks is retained on one side, and sanded smooth on the other. The natural fragrance of the wood remains; and each set of blocks is unique, offering an assortment of organic shapes such as cylinders, half cylinders, discs, y-shaped pieces and angular pieces in various sizes. Full of warmth & character, these natural branch wood blocks are a feast for the senses, and opens up endless possibilities of play and self-discovery for our little ones.
* Set comes with approximately 34 pieces, in a cotton bag. Sizes of the blocks vary due to the nature of this toy. For a general idea of scale, the smallest disc measures around 2.5cm in diameter, and the longest piece measures around 15cm in length. Made from solid FSC certified European wood. 
* Recommended for Ages 3+. Parental supervision strongly recommended for little ones who may still put things in their mouth as natural bark from the branch blocks may flake during play.