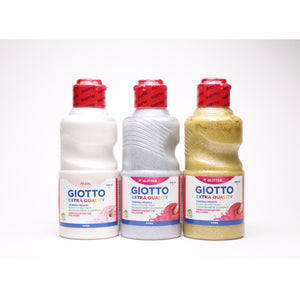 Make your creations sparkle with these shiny, shimmery paints! Pearl white is very versatile as it can be mixed with any paint colour of your choice to create a unique, pearly effect. Glitter Silver & Gold paints have a transparent base, so they can be added to any drawing or object to give it that special touch! As with all quality products from Giotto, these paints have been certified safe. They are washable from hands, but for stains on fabric, it is recommended to quickly rub on some dry soap and machine wash at 40 degrees. Bottle is designed for an ergonomic grip, and comes with a dosing cap that dispenses a controlled amount of paint each time. 
* This set comes with 3 x 250ml bottles of paint.
-
Giotto is a universe of colours proudly passed through generations of children & adults in homes and schools across the world. Launched in 1920 in Italy as a range of coloured pencils for children, this century old brand has continued to reach the hearts and hands of generations of users, and is renowned for its quality, creativity and safety.
Here at Barefoot Toys, we are honoured to bring you a quality range of art materials that have stood the test of time. We hope they will add colour to your homes as you create precious shared memories together :)