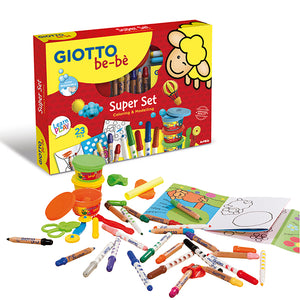 The Giotto be-bè Super Set is packed with fun for little ones aged 2 and up! This super set comes with an assortment of creative material to meaningfully engage little hearts, hands & minds. With Giotto be-bè, creativity is 100% safe!
This super set includes:
6 super large coloured pencils - Thick, round pencils that are easy for chubby hands to grasp, with a rounded plastic cap at the end of the pencil to ensure your child can create in complete freedom & total safety. Ideal for your child's first approach to colour, these bright soft colours are super-washable and easy to sharpen with a special sharpener included in this set. 
8 super felt-tip pens - Ideal for your child's first approach to colour, these felt-tip pens are shorter, easier to hold, unbreakable, safe, dermatologically tested, and extremely easy to wash off hands and fabric. The pens contain no removable parts, with choke-proof ventilated safety caps and super-strong non-retractable tips. Perfect for adventurous little artists!
3 x 100 g pots of super modelling dough - A soft dough made from safe, natural ingredients great for endless possibilities of play & learning! Ideal for developing the manual dexterity of very young children. Dermatologically tested, Giotto be-bè super modelling dough does not stain and can be removed from clothing easily: simply leave to dry and brush off.
A box of 4 modelling accessories - A scissors, rolling pin, rolling cutter and knife. Basic tools for endless creations!
1 super colouring book - For easy, on-to-go activities or fuss-free stay home days :)
This super set is a great introduction to art, colour and creative expression for your little one. It makes a great gift too!
-
Colours for great little artists. Giotto be-bè, the range created in 2004 with a specific goal: to stimulate the minds of children since the age of 2. The first range completely designed to develop creativity with ease and in total safety, meeting the specific needs of parents, but especially the aptitudes of little ones.