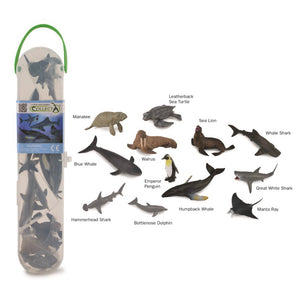 Our favourite CollectA animal buddies in miniature! This set of 12 mini sea animals comes in a clear, travel-friendly container and includes a:
Great White Shark,
Hammerhead Shark,
Whale Shark,
Blue Whale,
Humpback Whale,
Leatherback Sea Turtle,
Bottlenose Dolphin,
Manta Ray,
Emperor Penguin,
Sea Lion,
Walrus and a
Manatee.
Each figurine is realistically sculpted, made from quality PVC and painted with non-toxic acrylic paints. Use these CollectA buddies as you read aloud with your children, create small worlds together or enjoy some messy, sensory play! Open-ended, educational and fun, these mini animal figurines are truly a staple in every playful home!