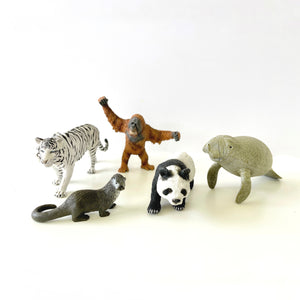 Being avid fans of the Singapore Wildlife Reserves, we bring to you a unique set of 5 iconic animals familiar to most children and families in Singapore. 
Say hello to our Orangutan, White Tiger, Giant Panda, Manatee and Otter!
It's no secret that we love CollectA through & through. One of the world's largest makers of toy animal figurines, CollectA ticks all our boxes of quality, value and design. Each animal is thoughtfully sculpted with realistic, life-like details. Made from quality PVC and painted with non-toxic acrylic paints, they are safe, durable and easy to clean. Use these animal buddies as you read aloud with your children, create small worlds together or enjoy some messy, sensory play! Open-ended, educational and fun, they are truly a staple in every playful home!
* Dimensions of each animal:
Orangutan: 10.7 x 10cm 
White Tiger: 16.2 x 7cm 
Giant Panda: 4.5 x 9.5cm
Manatee: 10.5 x 7cm
Otter: 7.5 x 3.5cm