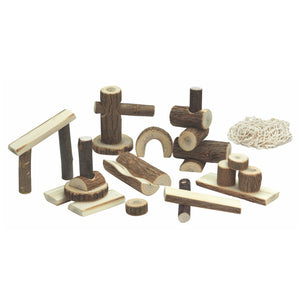 Gluckskafer Robinia Wood Blocks are a set of unique, textured and versatile blocks that promise a lot of fun! Sustainably crafted from Robinia wood - a hard durable wood with a fine bark & distinctive grain, these blocks have their original bark left intact and are sanded smooth along cut surfaces & edges to ensure safety. A thoughtful assortment of interesting shapes & sizes allows little ones to stack, create and build a different project each day. A naturally fun set of blocks that inspires our little ones to discover & learn through play!
* Set comes with approximately 24 pieces, in a cotton bag. The smallest disc measures around 5cm in diameter, and the longest piece measures around 18cm in length. Made from solid FSC certified European wood. 
* Recommended for Ages 3+. Parental supervision strongly recommended for little ones who may still put things in their mouth as natural bark from the branch blocks may flake during play.